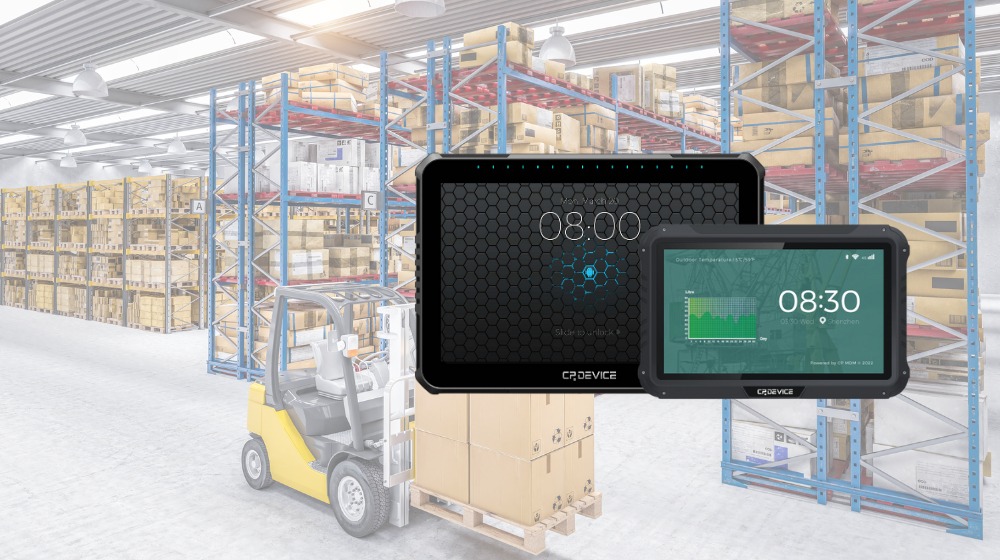 Leading Forklift Computer Designed for Logistics Industry
CPDEVICE provides high-quality forklift computers for the warehouse management logistics industry, aiming to help enterprises manage warehouses more efficiently. CPDEVICE is a professional provider of machine intelligence software and hardware solutions, and a well-known manufacturer and supplier of vehicle mount computer. With our rapid development and continuous efforts, CPDEVICE has built a high-performance team and developed a complete set of software and hardware solutions.
---
Choosing the Best Forklift Computer
If you own or manage a warehouse, forklift fleet, or industrial site, you know the importance of reliable, rugged equipment and mounted equipment. Not all equipment is suitable for use in such an environment, and as a manager or business owner, you must invest in a product that can withstand heavy daily use. It may be tempting to buy generic smart devices for your business, but with the right forklift computer, you don't have to worry about frequent repairs and other issues that plague non-rugged equipment. CPDEVICE offers a wide range of rugged forklift computers and mounting products for your warehouse or industrial workplace.
Choosing the Right Forklift Tablet or Computer
The right forklift computer can help your workers operate faster. It allows employees to operate the machine seamlessly as you can easily use it with one hand. Providing tablets to your employees can also make it easier for them to perform various tasks, such as updating inventory. By ensuring your employees all have access to the same information, you can minimize errors and ensure everyone is always on the same page.
Once you choose the right computer, you won't have to worry about forklift accidents as often. The right warehouse computer is ideal for drivers who don't have to worry about additional distractions while operating heavy equipment. Your employees matter, and when you take advantage of the rugged computing products we install, you can rest easy knowing that you put their safety first.
CPDEVICE rugged mobile computers (tablets, laptops and hybrids) have become a popular choice for warehouse, yard and port operators. CPDEVICE devices often replace dedicated forklift-mounted computers, offering a versatile combination of stronger desktop application compatibility and handheld portability that traditional forklift systems lack. CPDEVICE works with an extensive partner network to provide everything needed for a complete warehouse solution, including driver safety screen blanking software, equipment monitoring software, computer docking stations, forklift mounting hardware components and accessories, DC/DC power supplies, cordless, Long-range barcode scanners, keypads, and other integrated handheld peripherals for data capture, inventory, and asset tracking.
Additional Benefits of Installed Rugged Forklift Computer Equipment
There are many benefits to having rugged computing equipment installed around your warehouse. You and your employees will notice the many benefits right away. Some of these benefits include:
Reduce maintenance costs

If you damage your average smart device, it can be very expensive to repair. Sometimes, it may not be possible to fix. This means that if you keep having to replace your average smart device, it will cost you more money in the long run.

Durability

You may use cases for your equipment, but really, all equipment is not suitable for a warehouse or industrial environment.

Battery Power

When a device is deployed in an industrial or warehouse environment, it is almost always used heavily. Most traditional smart devices cannot last without draining the battery excessively.

Interference

If you allow your employees to use their own smart devices during work hours, you are taking a huge risk. Not only are they easily distracted by private calls and texts, but their devices are also vulnerable to damage or damage in such an environment.
We can help you solve your problem
Your bottom line matters, and you may be wondering how a forklift computer or vehicle-mounted computer can improve efficiency and increase revenue. That's understandable, and you'll be glad to know our products can help increase your bottom line. At the end of the day, our products are designed to improve employee productivity. The right tablet and mounting options can help them multitask securely, and by giving your employees access to the latest technology, you can simplify everyday tasks. Rugged tablets and mounts can be used in a variety of environments, so there's no need to worry about exposing them to conditions that normal equipment can't handle.
What should you look for in a forklift computer?
If you work in the warehousing or logistics industry, then you are probably familiar with the use of forklifts. To simplify operations and improve efficiency, many companies are now investing in forklift computers. However, with so many options on the market, it can be difficult to know what to look for when choosing a forklift computer. In this article, we discuss the key factors you should consider when choosing a forklift computer.
1. What is a forklift computer?
A forklift computer is a forklift-mounted device that offers a range of features and functions designed to increase efficiency and safety. Some of the key features of a forklift computer include wireless connectivity, barcode scanning, RFID tracking, GPS navigation, and the ability to run custom software.
2. What are the benefits of using a forklift computer?
There are several benefits to using a forklift computer, including:
Improve efficiency

Forklift computers can help automate many of the manual processes involved in warehouse and logistics operations, such as inventory management and tracking.

Improve security

By providing real-time data and alerts, forklift computers can help prevent accidents and improve worker safety.

Improve accuracy

With the ability to scan barcodes and track inventory in real time, forklift computers can help reduce errors and improve inventory management accuracy.

Save costs

By simplifying operations and increasing efficiency, forklift computers can help reduce costs and increase profitability.
3. Can the forklift computer be installed with custom software and hardware?
Yes, one of the main benefits of using a forklift computer is the ability to install custom software and hardware. This allows you to tailor the equipment to meet your specific business needs and requirements.
4.What should you look for in a forklift computer?
When selecting a forklift computer, there are several key features and factors to consider to ensure it meets the unique needs of your operation. In this section, we'll take a closer look at some of the most important considerations when selecting a forklift computer.
Connectivity

The ability to connect and communicate with other devices and systems is a key requirement for any forklift computer. Look for devices that support multiple connectivity options such as Wi-Fi, Bluetooth, and cellular data. Also, it's important to consider the range and strength of the device's wireless signal, especially if you're going to use it in a large warehouse or distribution center.

Power and battery life

Since forklift computers are expected to run for extended periods of time, it is critical to choose a device with sufficient battery life. Look for a device that can run at least one full shift without recharging. Also, consider how quickly your device will charge and how long it will take to fully charge.

Operating system and processing power

The operating system (OS) and processing power of a forklift computer play a major role in its performance and functionality. Look for devices with a widely supported modern operating system, such as Android or Linux, and a powerful processor capable of handling complex applications and multitasking.

OS updates and compatibility

Another important factor to consider is the frequency and ease of operating system updates and compatibility with existing software and hardware systems. You want to make sure your forklift computer can handle updates to the latest operating system version and work seamlessly with other equipment and systems in your operation.

Data security and management

Since forklift computers are used to manage and store critical data such as inventory and shipping information, it is important to choose a device with strong data security features such as encryption and password protection. Also, look for devices with data management and backup features so you can recover lost or corrupted data quickly and easily.

User interface design

The user interface (UI) of a forklift computer should be intuitive and user-friendly, with large buttons and an easy-to-read display that can be easily used even while wearing gloves or in low-light conditions. Also, look for a device that allows the UI to be customized to meet the unique needs of your operation.

Maintenance and Support

Like any technology, forklift computers require maintenance and support to keep them running at peak performance. Find equipment from manufacturers who offer comprehensive maintenance and support services, including repair and replacement options, training and user guides, and technical support.

Compliance and Certification

Finally, you should consider forklift computer compliance and certification. This device should comply with industry standards and regulations such as FCC and CE.
5.How to choose the right forklift computer manufacturer?
Beyond the product itself, there are a few key factors you should keep in mind when selecting a partner for your forklift computer needs:
Reputation

Look for a manufacturer with a solid reputation in the industry. This can be determined by researching customer reviews, industry awards and certifications.

Experience

Choose a manufacturer with extensive experience in producing forklift computers or similar equipment. This will ensure they have the expertise needed to design and manufacture high-quality products.

Innovation

Consider a manufacturer that is constantly innovating and improving its products. This ensures you stay ahead and get the latest technology and features.

Customized

Find a manufacturer who can customize a product to meet your specific needs. This ensures that the forklift computer you purchase is the right fit for your warehouse operations and workflow.

Partner

Choose manufacturers who are willing to work with you, not just suppliers. This ensures they are invested in your success and will work with you to find solutions to any challenges that arise.
By considering these manufacturer attributes in addition to product attributes, you can choose a partner who not only produces high-quality forklift computers, but also provides excellent service, support, and collaboration.
Contact Us Now
Submit inquiry, get a reply in 24 hours.
Phone can't be empty
Phone
Products can't be empty
Products you want
Verification code error